bridge
Kaita Ohashi Bridge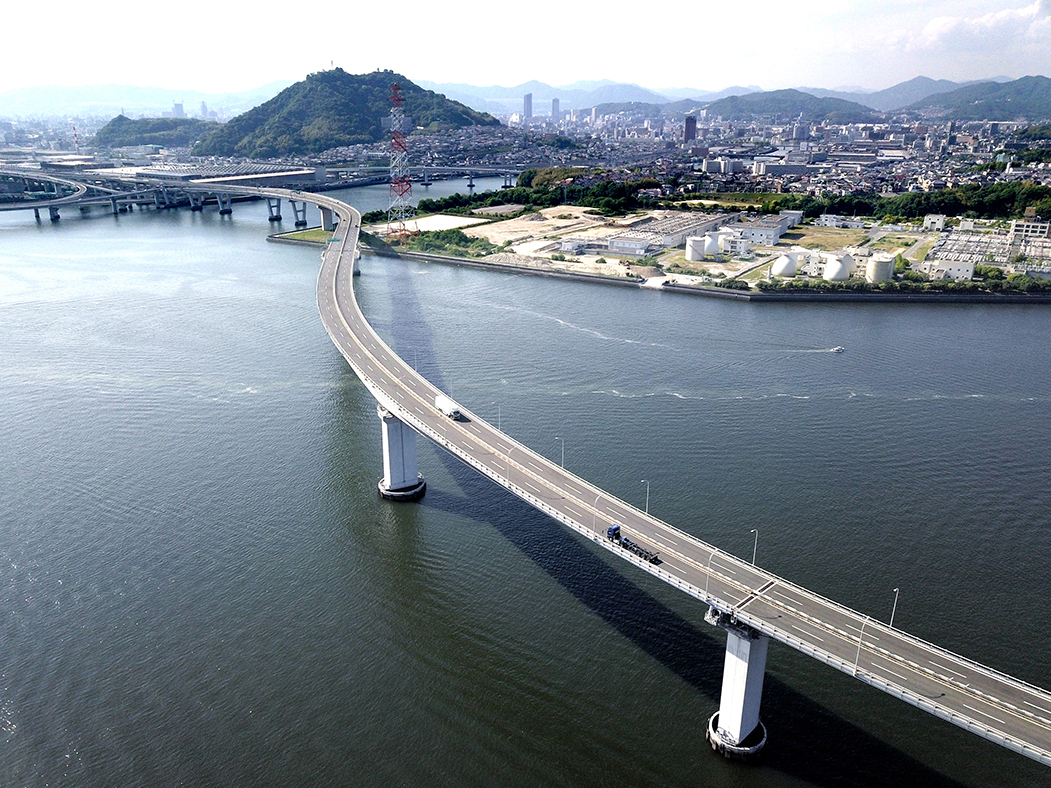 Kaita Ohashi Bridge, completed in December 1990, is a long bridge that was constructed to promote the smooth distribution of port cargo in the eastern section of Hiroshima Port, and to mitigate urban traffic congestion.
Designed in the motif of the O-Torii Gate of Aki Miyajima, the bridge blends in with the natural environment. It is illuminated at night to add color to the calm atmosphere of Hiroshima Bay.
Hiroshima Bay CamerasView

Hiroshima Bay cameras are installed at fixed locations along bay roads in Hiroshima Prefecture. Visit the site to view photos that are updated every 10 minutes.
You can use these cameras at any time to learn the latest information about traffic conditions, which can be difficult to understand through radio broadcasts alone. Use the Hiroshima Bay cameras to check road conditions before leaving for work, going shopping, or going out with your family!
Overview
| | |
| --- | --- |
| Route | Dejima-Kaita Line Harbor Road |
| Location | From Niho Oki-machi, Minami-ku, Hiroshima City to Eastern Distribution Complex in Saka-machi, Aki-gun (Hiroshima Port) |
| Completed | December 6, 1990 (service commencement) |
| Bridge length | 550.0 m (main bridge) |
| Maximum span length | 250.0 m |
| Design load | First class bridge, TL-20 TT-43 |
| Superstructure | 3-span continuous steel-box girder bridge |
| Max. girder height | 9.0 m |
| Effective width | 16.5 m |
| Road width | 14.0 m |
| Under-girder height (sea route) | 30.0 m |
| Managed by | Hiroshima Port & Harbor Administrating Center Co., Ltd. |
| Nickname | Hiroshima Bay Bridge |
Fees
Classification
Toll Rate (1 time)
Vehicle Classification
C
a
s
h
Standard-size car
100yen
Light cars, small motorbikes (except 125 cc or less), small-sized special cars, compact/standard cars, light/standard trucks (total weight less than 8 tons), micro buses (up to 29 passengers)
Large vehicle
150yen
Heavy trucks (total weight up to 20 tons), large buses (up to 29 passengers, overall length less than 9 meters)
Over-sized vehicle
200yen
Large trucks (other than above), large buses (30 or more passengers, total weight of 8 tons or more)
E
T
C
Standard-size car
General
Midnight to 6 a.m.
100yen
Same as above
6 p.m. to 9 a.m.
90yen
9 a.m. to 5 p.m.
100yen
5 p.m. to 8 p.m.
90yen
8 p.m. to Midnight
100yen
Persons with
physical disabilities
50yen
Large vehicle
Other than scheduled route buses
120yen
Scheduled route buses
110yen
Over-sized vehicle
160yen
Vehicles that are not allowed on the bridge
- Vehicles with caterpillar tracks or tank treads
- Vehicles with a total weight or overall length that exceeds the maximum stipulated in Items 1 to 5, Paragraph 1, Article 3 of the Vehicle Regulations Order
- Vehicles with inappropriate capacity
- Motorbikes of 125 cc or smaller
- Pedestrians, bicycles
Refund procedure for toll tickets for Kaita Ohashi Bridge harbor road (Hiroshima Prefecture website)
Inquiries regarding fees for Kaita Ohashi Bridge
Port and Harbor Promotion Division, Public Works Bureau, Hiroshima Prefectural Government

TEL 082-513-4019

Kaita Ohashi Bridge Management Office

TEL 082-884-2621
Inquiries regarding the use of ETC for Kaita Ohashi Bridge
Hiroshima Expressway Public Corporation (Hiroshima Expressway)

TEL 082-250-1181
Inquiries regarding toll roads near Kaita Ohashi Bridge
Hiroshima Expressway, Hiroshima Expressway Public Corporation

TEL 082-508-6848

Hiroshima - Kure Road, NEXCO West Japan Customer Center

TEL 0120-924863
TEL 06-6876-9031

Hiroshima - Kumano Road, Hiroshima Prefectural Road Public Corporation

TEL 082-888-6566
If objects are dropped from Kaita Ohashi Bridge or there is any damage to related facilities, please contact us at 082-250-7160.
Q&A
Q

What is the toll rate for Kaita Ohashi Bridge? Are there discounts?

View

Close